How much does it cost to see F1 on TV and live. Sky season ticket prices and GP tickets in Formula 1 circuits.
How much does Formula 1 cost to see it on TV and at the circuit? We know what F1 races are broadcast live by Sky, which holds the exclusive rights for the 2022 season. In other words, to see the grands prix live you have to subscribe, while it is possible to see the formula one for free live only for some GPs on Tv8. On this channel most of the races are broadcast on a deferred basis. In short, resign yourself you have to pay if you want to see all the F1 GPs live on television.
And for those who want to see the race live directly at the circuit? In this case, we tell you right away that the prices here are exorbitant in comparison. However, there are solutions that could do for you, even if you are not rich. But let's go in order and see how much it costs to see Formula 1 first on TV and then directly on the track, with prices on a case-by-case basis.
SEE ALSO: FORMULA 1 WHEN TO SEE ALL THE RACES
How much does the Sky F1 2022 subscription cost?
There are currently 2 options to see Formula One on Sky:
the Sky TV + Sky sport (or Sky entertainment + sport) package, with offers that the user can compose according to his own tastes.
Now streaming.
Let's see them one at a time, with prices and conditions provided, to clarify the offers that are not always well explained.
The subscription to Sky, using Sky Q, or the decoder that allows the TV to connect to the internet or to broadcast via satellite, can be composed by the user. In other words, by going to the Sky website or to the retailers, you can choose exactly what to see. The initial cost to receive the decoder at home is 9 euros for 30 days, as reported by the Sky website. Then to see the shows, Formula 1 and other sports, the cost is € 30.90 per month. This figure comes out by adding the 14.90 euros for Sky TV and the 16 euros necessary for sport, as shown in the attached screen.
How much does it cost to watch Formula 1 on Sky
So sport and F1 on Sky cost € 30.90 per month (with one-time activation for € 9) but also including shows. It is necessary to choose at least 2 packages in the offer, so you cannot have only formula 1 in this case. In addition, the expected stay is 18 months. If you prefer TV series instead of shows, the monthly cost rises to € 35.90 as you can see by selecting the two packages on the Sky website.
Finally, for those who prefer streaming there is the Now, which allows you to see all the sport of Sky on Smart TV or device, including the F1 GP 2022 a € 14.99 per month (€ 9.99 for the first 30 days). In this case, therefore, there is the possibility to choose only the sport and to cancel monthly.
How much does the ticket cost to see formula one
Those who want to see an F1 Grand Prix live directly at the circuit should know that the prices here are much higher. To get an idea, just see how much a ticket costs depending on the sector chosen, here expressed in dollars and taken from the GoTickets reseller website.
Practically, seeing an F1 grand prix at the circuit costs as much as taking a vacation. But in this case that there is no holiday bonus that takes, there are no possibilities to get discounts on the ticket price. But don't worry if these sums seem excessive to you to pay in one go, you can use the mode of payment in installments. You got it right, because with GoTickets you can buy tickets right away and pay later, for example in 6 installments. Here are all the details.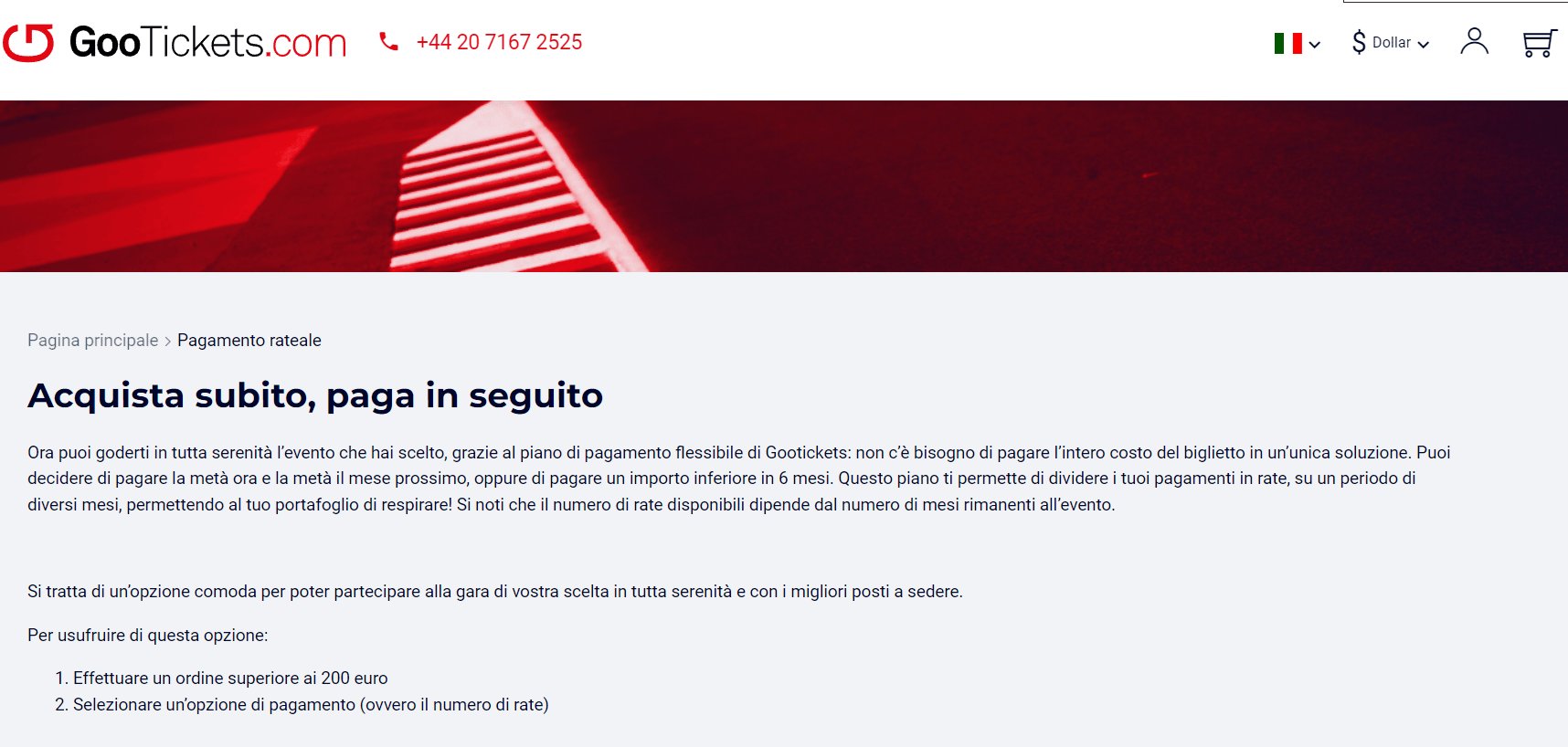 How much does formula one cost in Imola and Monza?
We close with the ticket prices for the 2022 GPs, foreseen by the Formula 1 calendar in Italy. That means Imola (GP of Emilia Romagna) and Monza (GP of Italy). In both cases, the costs can come as far as 725 euros for the entire race weekend, from Friday to Sunday. Prices decrease based on the chosen sector and the number of sessions you want to watch. In any case, it always takes hundreds of euros.
We have seen how much does it cost to see Formula 1. In summary, while to watch the F1 GPs on television you just need to subscribe to Sky starting from € 30.90 per month, to see a live race on the circuit the prices are not exactly popular.
SEE ALSO: